The new Movement, called: The Otherkin/Therian Movement, is a movement working on the ability to gain legal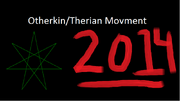 rights (mostly along the lines of simply allowing True Otherkin/Therians to identify themselves as such) towards bettering the life of the Otherkin/Therian community and removing the fear of being judged by the other members of society, because Otherkin/Therianism is a legitimate portion of Spiritualism and Psychology, but little to no one recognizes it as so.
Who is the Founder of this new movement?
Edit
Marcus Levis (also known as Spark RavenHawk or Alpha Fang (Wiccan Name and Otherkin Name)) founded the idea to come up with the movement to work towards truly having Otherkin recognized for who they are
What do the members of the Movement believe in?
Edit
The members believe that everyone is entitled to their own personal identity. They as Otherkin express themselves, and their identities just like anyone else would. Everyone is unique whenever it comes to their own personal identities, and to explore, and to further express their individualism is what we strive for.